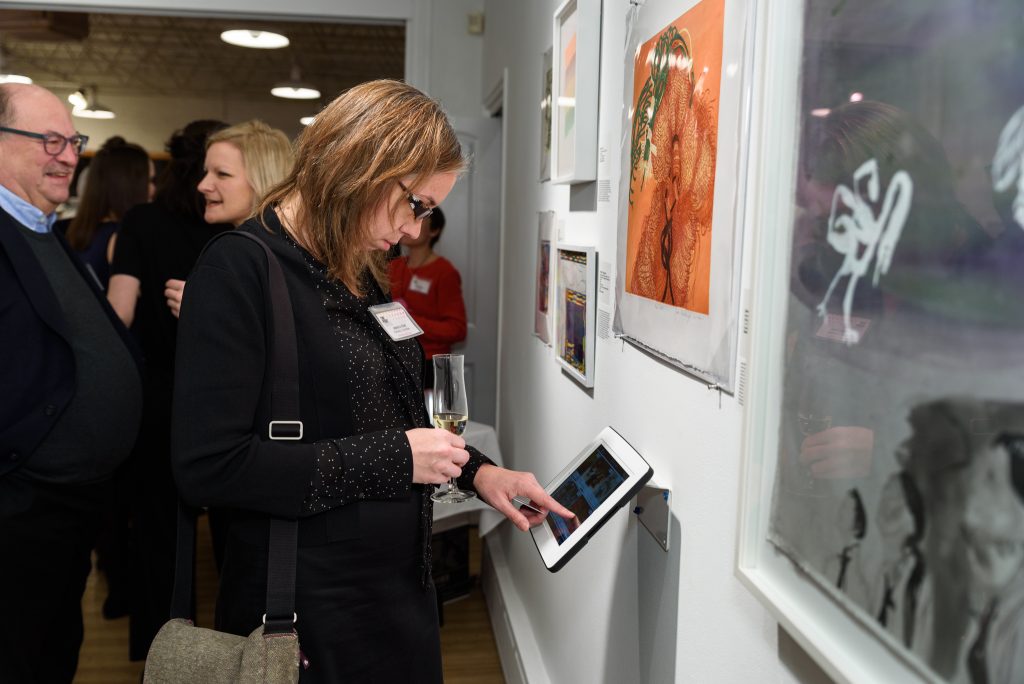 We hope you join us for this fabulous party! More details are to come for our 2017 Benefit Auction. The evening's print-related theme is Impressed. Please check back.
SCREEN SHOTS: Party Pictures from December 3, 2016 Auction! CLICK HERE
Thank you to everyone who made "Screen Shots" a great evening and a very successful benefit! We appreciate the incredible generosity of our Donors, Sponsors, Auction and Honorary Committees, Volunteers, Attendees and YOU, who all played a huge part in making this annual auction a spectacular event! All photos: Tim Tiebout Photography // www.timtiebout.com
Great Art for a Great Cause and a Fabulous Party!

The Print Center's Annual Auction is A Wonderful Opportunity to Support a Creative Organization, Collect Exceptional Art and Enjoy a Fabulous Party!
Screen Shots: The Print Center Annual Auction, our biggest fundraising event of the year, was held on Saturday, December 3, 2016 from 6:00-9:00pm with an Exclusive Champagne Preview beginning at 5:00pm. The proceeds from this auction went towards funding exhibitions featuring local, regional and international artists and all of The Print Center's intriguing visual art and education programs.
Once again we collaborated with Paddle8 - a global, internet based marketplace for collectors, presenting auctions of extraordinary art and objects. Their participation opened up our auction to a broad, international audience, and donated works remain visible on their site even though the auction has concluded.
View all donated works on Paddle8
The Screen Shots Auction bidding closed at 8:00pm on December 3, 2016.
Saturday, December 3, 2016
5:00pm   Exclusive Champagne Preview
6:00pm   General Admission
8:00pm   Bidding Closed
CLICK HERE FOR THE SCREEN SHOTS INVITATION

James B. Abbott
Kate Abercrombie
Susan Abrams
Norman Ackroyd
Linda Adato
Jaime Alvarez
Cynthia Back
Justyna Badach
Katie Baldwin
John A. Benigno
Anders Bergstrom
Rodger Binyone
Elena Bouvier
Victoria Burge
Alexander Calder
Anthony Campuzano
Daniel Cappello
Caleb Charland
Jason Chen
Nancy Citrino
Brian D. Cohen
Robert Colescott
Dean Dass
Margot de Wit
Jeffrey Dell
Dikko Faust
Vincent Feldman
Julianna Foster
Michael W. Froio
Rebecca Gilbert

Mary Jo Gimber
Sidney Goodman
AP Gorny
David Graham
Chaim Gross
Ernest Haas
Garrett Hansen
Kay Healy
Henry Horenstein
INDICAN
Jane Irish
Anna Jeretic
Jasper Johns
Gary Kachadourian
Karen Kunc
Karl LaRocca - Kayrock Screenprinting
Anthony Lazorko
An-My Lȇ
Preston Link
Peter Lister
Marino Marini
Josh Marowitz
Gabriel Martinez
Anne Massoni
Sarah McEneaney
Dennis McNett
George Nama
Matt Neff
Perry Oliver
Tom Palmore

Eduardo Paolozzi
Ryan Parker
Michael Penn
Stephen Perloff
Greg Pizzoli
Rosalyn Richards
Paul Rider
James Rose
Dieter Roth
David Shapiro
Miriam Singer
Shelley Spector
Doug + Mike Starn
Chad States
Perry Steindel
Jeffrey R. Stockbridge
Ivanco Talevski
Cynthia Nourse Thompson
Rochelle Toner
Sarah Van Keuren
Al Wachlin, Jr
Joan Wadleigh Curran
Hiroshi Watanabe
Mark Wlaz
Byron Wolfe
Rick Wright
Eva Wylie
Jack Youngerman
Martha Zelt
Sarah Zwerling
1812 Productions
Arden Theatre Company
Borowsky Center for Publication Arts, The University of the Arts
Brandywine River Museum
Chutatip Suntaranon
City Planter
Cliff Ross
D'Angelo's Ristorante Italiano & Lounge
FringeArts
George Baker Flowers
InterAct Theatre Company
Longwood Gardens
Metcalfe Architecture & Design
Metropolitan Bakery
Mission Taqueria
Robert J. Morrison
National Museum of American Jewish History
Pennsylvania Horticultural Society
Philadelphia Chamber Music Society
Philadelphia Independents
Philadelphia Museum of Art

Philadelphia's Magic Gardens
Purgatory Pie Press
Restaurant Neuf
Schlesinger's Delicatessen
Shane Confectionery
Dr. Steven Silberstein
Sofitel Hotel Philadelphia
Ruth & Jack Solomon
Starr Catering | Starr Events
Tequilas
The Chamber Orchestra of Philadelphia
The Clay Studio
The Fabric Workshop and Museum
The Prime Rib
Tim Tiebout Photography
Trestle Inn
Trinity Framing
Voyage Actually
Waffles & Wedges
Whole Foods Market
Jay Zemel
Zulu Nyala