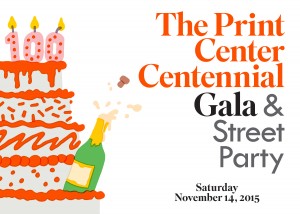 The Print Center Centennial
Gala &
Street Party
On Saturday, November 14, 2015 The Print Center celebrated a historic evening honoring the outstanding legacy and exciting future of The Print Center! The festivities began with a Gala Dinner at Curtis Institute of Music's Lenfest Hall with special guests artists Henry Horenstein, Dennis McNett, William Earle Williams and Andrew Jeffery Wright, and we capped it off with a festive Street Party under the tent on Latimer Street, where we danced the night away with DJ Robert Drake. It was the celebration of the century!
Gala Honorary Committee
Honorary Chairs
Julie Jensen Bryan & Robert Bryan
Henry Horenstein
Alma Alabilikian & Peter Paone
Linda Lee Alter
Barbara B. & Theodore R. Aronson
Peter Barberie & Virgil Marti
Alice Beamesderfer
David Brigham
Jasper Brinton
Mary & James Brown
Josephine Burri
Stewart Cades
Ed Colker
Louise Curl Adams & Peter Adams
Judith Dean & James D. Crawford, Esq.
Maude de Schauensee
Roberto Diaz
Anne & Allan Edmunds
Joslyn Ewart
The Honorable Lawrence Farnese,
     Senator, State of Pennsylvania
Christine Filippone & Marisa Pereyra
Ruth Fine
Kathleen A. Foster
Ofelia Garcia
Emmet Gowin
Lynne & Harold Honickman
John Ittmann
Meryl Levitz
Ennes Littrell
Sueyun Locks
Mary MacGregor & Charles E. Mather, III
Ann & Donald W. McPhail
D. W. Mellor
Emmy Miller & Avi Eden
The Honorable Michael A. Nutter,
     Mayor of Philadelphia
Lydia Panas & Ed Baldrige
Alessandra Philips
The Honorable Blondell Reynolds Brown,
     Councilwoman, City of Philadelphia
Amy Sadao & Thomas Devaney
Innis Howe Shoemaker
Ruth & Jack Solomon
Judith Tannenbaum
Eileen Tognini
Cade Tompkins
Rochelle Toner
William R. Valerio
Peggy Wachs
Joan Wadleigh Curran
John Wind
Jay Zemel
Street Party Committee
Honorary Chairs 
Jason Chen
Sara McCorriston
Dennis McNett
Alex Baker
David Barquist & Douglas Schaller
Julie Courtney
Katrina D'Autremont
Susan Davis
Molly Dougherty
Richard Eldridge & Mark Morgan
Anthony Elms
Roberta Fallon
Lynne Farrington
Emily Gowen
Liz & Michael Grimaldi
Nat Hamilton
Richard Hricko
Teresa Jaynes

Anne Massoni
Sarah McEneaney
Alison & Matt Neff
Jena Osman & Amze Emmons
Ashley Peel Pinkham
Mary Phelan
Lori Spencer
Shelley Spector
Thaddeus Squire
Jacqueline van Rhyn
Paul Vernon
Debra Ward
Sue White
Rachel Zimmerman & John Boyko
Participating artists
Henry Horenstein is a renowned artist and beloved Professor of Photography at the Rhode Island School of Design. His work is collected and exhibited internationally and he has published over 30 books. He had a solo show of his series Honky Tonk at The Print Center in 2004.  Horenstein lives in Boston and is represented by Clampart, New York, NY; Carroll & Sons, Boston, MA; Verve Gallery, Santa Fe, NM; Catherine Couturier Gallery, Houston, TX; and Gallerie Vassie, Amsterdam.
Dennis McNett is the founder of Wolfbat Studio; the accomplished and exciting printmaker is based in Richmond, VA.  His graphic aesthetic and love for narrative have been realized in many ways - from larger than life Viking ship performances and parades, to masks, installations and sculptures, to unique wood carvings, relief prints and graphics. McNett has worked with Anti-Hero, Vans, Barneys NY and the Deitch Artparade. His work has been featured in The New York Times, Juxtapoz magazine, Thrasher and Complex Magazine.
William Earle Williams is a renowned photographer and a Professor of Fine Art and Curator of Photography at Haverford College. He has exhibited at the Baltimore Museum of Art, the Philadelphia Museum of Art, the Pennsylvania Academy of the Fine Arts, the Tampa Museum in Florida and the Princeton University Museum. Mr. Williams's photographs are in the permanent collections of the Metropolitan Museum, the Cleveland Museum of Art, Philadelphia Museum of Art, and the National Gallery of Art in Washington among others. He has been honored with a grant from the Ford Foundation and fellowships from the John Simon Guggenheim Memorial Foundation, the Pew Fellowships in the Arts, the Pennsylvania Council on the Arts and the Massachusetts Council on the Arts.
Andrew Jeffrey Wright is a  founding member of Philadelphia's Space 1026. Wright's works include painting, animation, drawing, collage, photography, sculpture, video, installation and screen printing. In addition to exhibiting with The Print Center, he has shown at Lizabeth Oliveria (LA), New Image Art (LA), Spector (Philadelphia), The Luggage Store (San Francisco), Lump (Raleigh), The Pennsylvania Academy of Fine Arts, ICA in Philadelphia, Giant Robot NY (NYC) The Corcoran (DC) and Foundation Cartier (Paris).
The Print Center Centennial Portfolio: Produced in partnership with the Curtis Institute of Music and the Philadelphia Art Alliance and supported by Creative Philadelphia, the portfolio will feature newly commissioned works from Phillip Adams, Henry Bermudez, Colette Fu, Sarah McEneaney and Ron Tarver, along with works by Dennis McNett and Henry Horenstein. It will also feature a music CD of recent highlights from the Curtis Institute of Music and a text work by Philadelphia's Poet Laureate Frank Sherlock.
All proceeds of The Print Center Centennial Gala & Street Party benefited the Centennial Fund.
Event Planning provided by Raff Events
Event Photography provided by Kelly & Massa Photography
Catering provided by Parkhurst
Beverages generously donated by Wines Til Sold Out and Tequilas
Music by DJ Robert Drake
Special Thank You to:
Centennial Committee
Anna Tas, Chair
Justyna Badach
Barbara Beck
Diane Burko
Stephanie Bursese
Jeffrey Cooper
Cindi Ettinger
David Graham
Lydia Hunn
Peter Johnson
Karen Mauch
Sara McCorriston
Robert J. Morrison
Ellen Owens
Amey Park
Jeannie Pearce
Aimee Pflieger
Ellen Ragone
Julie Randolph
Suzanne Ilene Schiller
Trish Thompson
Mark Vevle
Eva Wylie
Board of Governors
Barbara Beck
Blake Bradford
Jerry Bronstein
Jeffrey Cooper
Frances G. Gerson, Chair
Aaron Goldblatt
David Graham
Shelley R. Langdale
Robert J. Morrison
Julie Randolph
Ellen Rosen
Hester Stinnett, President
Anna Tas
Mark Vevle
Katherine Ware
Diane Zilka