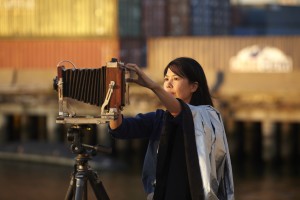 An-My Lê is an artist whose photographs of landscapes transformed by war or other forms of military activity blur the boundaries between fact and fiction and are rich with layers of meaning. A refugee from Vietnam and resident of the United States since 1975, much of Lê's work is inspired by her own experience of war and dislocation. Projects include "Viêt Nam" (1994–98), in which Lê's memories of a war-torn countryside are reconciled with the contemporary landscape; "Small Wars" (1999–2002), in which Lê photographed and participated in Vietnam War reenactments in South Carolina; and"29 Palms" (2003–04), in which United States Marines preparing for deployment play-act scenarios in a virtual Middle East in the California desert. Suspended between the formal traditions of documentary and staged photography, Lê's work explores the disjunction between wars as historical events and the ubiquitous representation of war in contemporary entertainment, politics, and collective consciousness.
During An-My Lê's von Hess Visiting Artist Residency in the Borowsky Center for Publication Arts at the University of the Arts she will be creating an original offset print and speaking about her work.
Presented as part of The Print Center 100.