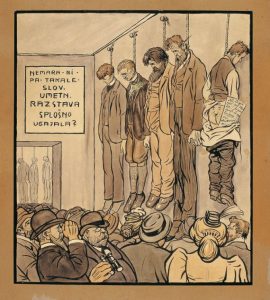 The art collective Slavs and Tatars will speak about their curatorial debut Crack Up-Crack Down: 33rd Ljubljana Biennial of Graphic Arts (June 7 – September 29, 2019), which brought together 30 international and regional artists to explore the graphic language of satire. Founded in 1955, The Ljubljana Biennial of Graphic Arts is the oldest biennial dedicated to the medium. In their talk at The Print Center, Slavs and Tatars will highlight how they used the exhibition as a medium to literally and strategically refocused "the graphic" for the twenty-first century.
About the Artists
Slavs and Tatars is an internationally renowned art collective devoted to an area East of the former Berlin Wall and West of the Great Wall of China known as Eurasia. Since its inception in 2006, the collective has shown a keen grasp of polemical issues in society, clearing new paths for contemporary discourse via a wholly idiosyncratic form of knowledge production: including popular culture, spiritual and esoteric traditions, oral histories, modern myths, as well as scholarly research. The collective's practice is based on three activities: exhibitions, publications and lecture-performances. Their work has been the subject of solo exhibitions at the Museum of Modern Art, NY; Salt, Istanbul; Vienna Secession, Kunsthalle Zurich; Albertinum, Dresden and Ujazdowski Centre for Contemporary Art, Warsaw, among others. Slavs and Tatars has published ten books to date, including Wripped Scripped (Hatje Cantz, 2018) on language politics as well as Molla Nasreddin (currently in its 2nd edition with I.B Tauris, 2017), a translation of the legendary Azerbaijani satirical periodical. The collective's focus on Eurasia challenges our often times one-dimensional way of seeing relationships between science, religion, power and identity. Their work is currently featured in the main exhibition "May You Live in Interesting Times," of the 58th Venice Biennale. Slavs and Tatars is represented by Tanya Bonakdar Gallery (NYC), Kraupa-Tuskany Zeidler (Berlin), Raster Gallery (Warsaw) and The Third Line (Dubai).
This program is supported by John B. Hurford '60 Center for the Arts and Humanities and Cantor Fitzgerald Gallery at Haverford College.
All of The Print Center's Exhibitions and Programs are free and open to the public.