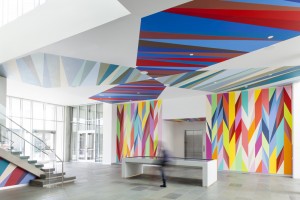 As part of Mural Arts' Open Source program, Odili Donald Odita creates a mural that addresses the social struggles faced by Philadelphians. Odita's vibrant colors and patterns explore the vital role local community and cultural organizations play in keeping a city thriving.
The exhibition originally scheduled at Brandywine Workshop has been cancelled.
Mural Arts' Open Source: Engaging Audiences in Public Space is a groundbreaking outdoor exhibition of temporary, site-specific art created by leading contemporary artists.
The Brandywine Workshop is a nonprofit institution dedicated to the creation, documentation and preservation of a legacy of culturally diverse American art and ensuring the participation of multi-ethnic artists and audiences in the field of fine arts printmaking and related media technologies.  www.brandywineworkshop.com