Henry Horenstein: Lecture, Films + Books!
January 26, 2017 @ 6:00 pm

-

8:00 pm
Please join us for an evening with Henry Horenstein, the renowned photographer, filmmaker and much-loved Professor of Photography at the Rhode Island School of Design. Horenstein has published more than 30 books, including Animalia, Close Relations, Show and Honky Tonk, which was the subject of a solo show at The Print Center in 2004. His photographic textbooks have been a resource for students over the decades.
Horenstein is an engaging and entertaining storyteller, bringing humor and wisdom to tales from his remarkable career. He will share his stories, images and present his two newest books: Histories: Tales From the 70s and his memoir, Shoot What You Love: Tips and Tales from A Working Photographer.
Shoot What you Love is a book every artist should read. Horenstein's warmth and wit shine through as he recounts his thoughts on all the places and situations photography has introduced him to. From artist statements to fine art and commercial photography, corporate jobs, working in far flung locales, book publishing and documentary film making, he covers it all in his inimitable, approachable yet brilliant way.
This is also a special opportunity to see his three films SPOKE, Mr. Showbiz and Partners.
A book signing will follow the talk – both new books and a selection of old favorites will be available for purchase.

Histories: Tales From The 70s – a monograph featuring his earliest documentary work.
Histories: Tales From the 70s, 2016, Honky Tonk Editions, Hardcover, 144 pages, $60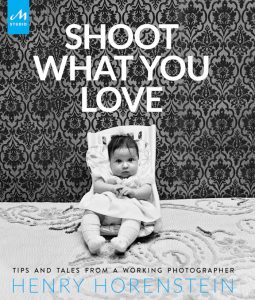 Shoot What You Love: Tips and Tales from A Working Photographer – a visual memoir of Henry Horenstein's career, as well as a history of the last several decades in photography.
Shoot What You Love: Tips and Tales from A Working Photographer, 2016, Monacelli Press, Hardcover, 208 pages, $40
READ THE REVIEWS
"Henry Horenstein: Histories: Tales From the 70's," Greer Muldowney, LENSCRATCH, December 10, 2014
"Henry Horenstein's 'Shoot What You Love'," David Schonauer, Pro Photo Daily, December 15, 2016
Artist Statement
Over the years I've photographed many different types of subjects, even animals and the human form. But I've always returned to my roots as a documentary photographer. More than anything, I like a good story. And I try to tell one in a direct way, with humor and a punch line, if possible. With this in mind, I have photographed country musicians in Nashville, my family and friends in Massachusetts, horse racing at Saratoga, nightlife in Buenos Aires, old highways everywhere, everyone in Cajun Louisiana, South American baseball, camel breeding in Dubai, tri-racial families in Maryland, and much, much more.
For subjects, I prefer older cultures and places, especially disappearing ones. That's what my history teachers, Jesse Lemisch (at University of Chicago) and E. P. Thompson (at University of Warwick), taught me to do. These cultures and places might vanish, but it is a historian's righteous duty to make sure that they leave a trace. I also was very influenced by another teacher in Chicago, John G. Cawelti, who taught me (and doubting historians predating him) that popular culture should be taken seriously. One other great influence for me was my teacher at Rhode Island School of Design, Harry Callahan. Harry encouraged me to "shoot what you love," and to pay no attention to what others are doing. "Even if you make bad pictures," he said, "you'll have a good time." Thank you for that, Harry.
About the Artist
Noted photographer and filmmaker Henry Horenstein was a history student at University of Chicago, before switching to photography. He studied with classic photographers Harry Callahan, Aaron Siskind, and Minor White, but his background in history influenced his choice of subject matter from country music to horse racing to burlesque. Henry has published over 30 books, including classic textbooks Black and White Photography, Beyond Basic Photography, and Digital Photography; and monographs Honky Tonk, Shoot What You Love, Histories, Racing Days, Animalia, Humans, Show, and Close Relations. Henry's photographs are widely collected and exhibited internationally. He lives in Boston, MA, and teaches at Rhode Island School of Design.
Free and open to the public