September 8 — November 18, 2017
Opening Reception: Thursday, September 7, 6:00 - 8:00pm
Gallery Talk: Thursday, September 7, 5:30pm with Elizabeth F. Spungen, Executive Director
Martin Puryear (b. 1941 in Washington, DC) is an internationally renowned sculptor who has also created an extensive body of works on paper. This exhibition offered an in-depth investigation of his prints.
Guest curated by independent curator Ruth Fine
The forms explored in Puryear's sculpture, often rooted in nature, are equally powerful in his prints, the creation of which has been sporadic. As evident in this exhibition, Puryear's most expansive bodies of prints date to the 1960s, and since 1999. During these past two decades, his productivity in printmaking has been extensive, emphasizing the most tactile of the print processes: woodcut, a relief process, and the various etching (intaglio) techniques.
– Ruth Fine
This exhibition was presented in conjunction with the Association for Public Art's temporary installation of Puryear's sculpture Big Bling in Philadelphia (June-November 2017).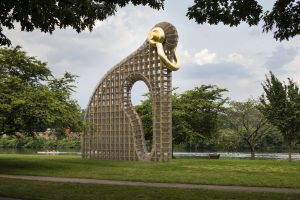 Press
"The Print Center presents 'Martin Puryear: Prints, 1962-2016' Powerful printmaking," Broad Street Review in Art, Pamela J.  Forsythe, October 03, 2017    pdf
"New Season, New Art: Fall Begins with 45 Notable Exhibitions Featuring Works by Black Artists," Culture Type, Victoria L. Valentine, September 30, 2017    pdf
"In Philly galleries now: A print show by the 'Bling' sculptor, and serious color at Locks," Edith Newhall, The Philadelphia Inquirer and Philly.com, September 20, 2017     pdf
"The Big Bling has renewed interest in sculptor Martin Puryear's drawings," Peter Crimmins, NewsWorks WHYY, September 14, 2017     pdf
"15 Top-Flight Gallery Shows to See in Philly this Fall," Edith Newhall, The Philadelphia Inquirer and Philly.com, September 6, 2017     pdf
Press Images (password protected)
"Martin Puryear in 'Time', Art in the Twenty-First Century, Season 2," Art21
"Printmaking Martin Puryear," Art21