EVENTS
SPRING 2014

Book Launch and Signing: City Abandoned: Charting the Loss of Civic Institutions in Philadelphia
By Vincent Feldman
Wednesday, March 5, 5:30pm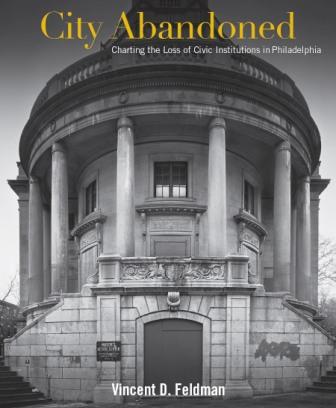 Join us in celebrating the launch of Photographer Vincent Feldman's debut book City Abandoned: Charting the Loss of Civic Institutions in Philadelphia, published by Paul Dry Books. With the photographs in this book, Vincent Feldman offers Philadelphians a testament of who we were, who we are, and who we are likely to become. The artist and publisher will be on hand to share images and discuss the project as well as sign copies of the book. Books retail for $29.95 and will be available for purchase at the event. Reception to follow. Click to RSVP
Poetry Reading
At The Print Center, 1614 Latimer Street, Philadelphia
Thursday, March 13, 5:30pm, FREE

Left to right: Amy Catanzano, Allison Cobb, and Jena Osman
In conjunction with our current exhibition Demetrius Oliver: Canicular, please join us for an evening of readings by poets who experiment with language and science, curated by noted Philadelphia poet and author Jena Osman. Osman will be joined by poets Amy Catanzano and Allison Cobb whose readings will range in topics from physics to the history of plastic and tie into Demetrius Oliver's interest in our understanding of history, knowledge and the natural world.

Click to RSVP
Open Door: La Salle University Art Museum
Tuesday, April 29, 6:00pm, FREE
1900 W. Olney Avenue, Philadelphia
Limited space is available, Advance registration is necessary
Open Door is a program of The Print Center that shares unique behind-the-scenes tours at Philadelphia's most intriguing cultural sites with our audience.

La Salle University Art Museum; Edward L. Palmer, Boy in the City, c. 1942
Join us at the La Salle University Art Museum for a guided tour of the current exhibition American Scenes: WPA-Era Prints of the 1930s and 1940s, led by curators Klare Scarborough and Carmen Vendelin. Featuring Works Progress Administration (WPA) prints from the permanent collection of the La Salle University Art Museum and borrowed from the Print and Picture Collection of the Free Library of Philadelphia, the exhibition tells the story of rural and urban life, of industrialization and hard times. Printmakers represented in this exhibition include Thomas Hart Benton, Dox Thrash, Charlotte Angus, Elizabeth Banks, Bessie Rigrodsky, Edward Palmer, Horatio Forjohn, Michael Gallagher, Raymond Steth, Benton Spruance and Hale Woodruff.
The Art Museum opened its doors to the general public in fall of 1975 and became the only university-run art museum in the Philadelphia area to offer a permanent display of European and American paintings, sculptures and works on paper from the Renaissance to the present. Non-Western artworks include Pre-Columbian and Ancient Greek ceramic vessels and Tanagra figurines, African sculptures, Indian miniature paintings and drawings and Asian ceramics.
Space is limited. Please RSVP to evandenberg@printcenter.org or 215-735-6090 x1