The Print Center's 91st Annual International Competition features works by 66 of the finest contemporary artists using Photography or Printmaking as critical components in their works today. This year the competition was juried by two curators from The Metropolitan Museum of Art, New York: Kelly Baum, Cynthia Hazen Polsky and Leon Polsky Curator of Contemporary Art; and Jennifer Farrell, Associate Curator, Drawings and Prints. The Print Center's Annual International Competition is one of the most prestigious and oldest juried exhibitions in the United States. This online exhibition presents portfolios of the work of the 54 semi-finalists and 12 finalists. It provides a unique opportunity to view the work of local, national and international artists in a forum which emphasizes individual talent and expressiveness rather than a specific exhibition topic. Baum and Farrell reviewed over 2,000 images submitted by 400 artists. TR Ericsson, Yoonmi Nam and Serena Perrone were selected for Solo Exhibitions, on view at The Print Center May 12 – August 5, 2017.
TR Ericsson, Jeanne, from the series Crackle & Drag, 2016
Yoonmi Nam, POP CORN!, 2016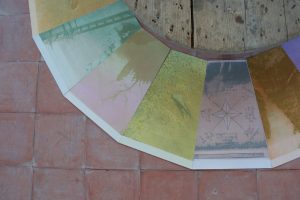 Serena Perrone, Something is About to Happen (detail), 2016
Past Competitions:  90th, 89th, 88th, 87th, 86th
Information on competitions before 2012 can be found here, and can be searched by year.