The Print Center's 91st Annual International Competition features works by 66 of the finest contemporary artists using Photography or Printmaking as critical components in their works today. This year the competition was juried by two curators from The Metropolitan Museum of Art, New York: Kelly Baum, Cynthia Hazen Polsky and Leon Polsky Curator of Contemporary Art; and Jennifer Farrell, Associate Curator, Drawings and Prints. The Print Center's Annual International Competition is one of the most prestigious and oldest juried exhibitions in the United States. This online exhibition presents portfolios of the work of the 54 semi-finalists and 12 finalists. It provides a unique opportunity to view the work of local, national and international artists in a forum which emphasizes individual talent and expressiveness rather than a specific exhibition topic. Baum and Farrell reviewed over 2,000 images submitted by 400 artists. TR Ericsson, Yoonmi Nam and Serena Perrone were selected for Solo Exhibitions, on view at The Print Center May 12 – August 5, 2017.
TR Ericsson, Jeanne, from the series Crackle & Drag, 2016
Yoonmi Nam, POP CORN!, 2016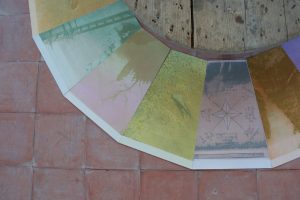 Serena Perrone, Something is About to Happen (detail), 2016
In the News:
"The State of the Print," Anne Cross, Title Magazine,
August 14, 2017    pdf
"Poetic, deeply personal works," Edith Newhall, The Inquirer and Philly.com,
July 2, 2017    pdf
The Print Center was pleased to present over $3,000 in purchase, cash, material and exhibition awards to sixteen artists and congratulate all of these artists – the creators of an outstanding selection of work which use Photography and Printmaking as critical components. The artists were selected by our excellent jurors Kelly Baum and Jennifer Farrell from the Metropolitan Museum of Art. Thank you to everyone who applied!
TR Ericsson (Brooklyn, NY and Painesville, OH), Yoonmi Nam (Lawrence, KS) and Serena Perrone (Providence, RI) received Solo Exhibitions at The Print Center (May 12 – August 5, 2017). The Stinnett Philadelphia Museum of Art Collection Award was awarded to David Tim (Oakland, CA). The Michener Art Museum Photography Patrons Circle Purchase Prize was awarded to Julie Anand and Damon Sauer (Phoenix).
The Print Center's Honorary Council Award of Excellence ($100) was awarded to Jenny Robinson (San Francisco). The Olcott Family Award ($500) was awarded to Krista Steinke (Houston, TX) and the Jacqueline L. Zemel Prize for Printmaking ($500) was awarded to David Tim (Oakland, CA).
The Renaissance Graphic Arts Award ($100 gift certificate) was awarded to Nif Hodgson (Los Angeles, CA). The Society for Photographic Education Award ($125 membership) was awarded to Harrison Walker (Rockport, ME) and the Trinity Framing Award ($100 gift certificate) was awarded to Bonnie Levinthal (Philadelphia).
Three Art in Print Awards (one-year digital subscriptions) were awarded to Karly Avrach (Philadelphia), Annie Bissett (Northampton, MA) and Ann Chernow (New York and Westport, CT). The BOMB Magazine Award (one-year subscription) was awarded to Briar Craig (Kelowna, Canada) and The Photo Review Award (one-year subscription) was awarded to Gordon Belray (Toronto, Canada).
Yoonmi Nam (Lawrence, KS) was awarded The Print Center Gallery Store Award.
Past Competitions:  90th, 89th, 88th, 87th, 86th
Information on competitions before 2012 can be found here, and can be searched by year.