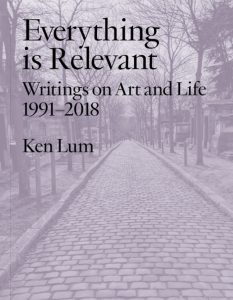 Join us to celebrate Ken Lum's latest book: Everything is Relevant: Writings on Art and Life, 1991-2018. Lum is the Marilyn Jordan Taylor Presidential Professor and Chair, Department of Fine Arts, University of Pennsylvania Stuart Weitzman School of Design. His exceptional career includes participation in Documenta 11 and the Gwangju, Istanbul, Moscow, São Paulo and Whitney Biennials. He is the co-founder and Chief Curatorial Advisor for Monument Lab. His public artworks are installed in St. Louis, MO as well as in Vienna, Austria; Toronto and Vancouver, Canada; Leiden, Rotterdam and Utrecht, The Netherlands; and Zuoz, Switzerland. He has received Guggenheim and Pew Fellowships, and has co-curated exhibitions for the 7th Sharjah Biennial and Monument Lab.
The book addresses Lum's career; critical histories of modern, postmodern and contemporary art; and debates around issues such as race, class and monumentality. Penetrating, insightful and often moving, Lum's writings are essential for understanding his prescient and internationally recognized practice.
Lum will be joined in conversation by art historian Alexander Alberro, (Virginia Bloedel Wright '51 Professor of Modern and Contemporary Art History at Barnard College and Columbia University, New York) and will sign books, which will be available for purchase.
The book includes an introduction by Kitty Scott, Deputy Director and Chief Curator of the National Gallery of Canada and co-curator of Lum's 2002 retrospective. Ken Lum, Everything is Relevant: Writings on Art and Life, 1991-2018, (2020), 7 1/2″ x 11″, published by Concordia University Press, 320 pages, 12 color illustrations, 48 black & white illustrations, $65.00.
Available for order here.