Elizabeth F. Spungen, Executive Director
lspungen [at] printcenter [dot] org
215.735.6090 x4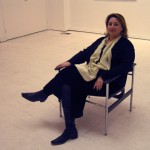 Liz Spungen has been the Executive Director of The Print Center in Philadelphia since 2006. She received both a BA and MA in the History of Art from the University of Pennsylvania and has spent her entire career working with the visual arts in Philadelphia. Her tenure at The Print Center has been marked by programmatic and administrative accomplishments. She has developed numerous major individual and institutional gifts, among them the largest gift ever received by The Print Center naming the Jensen Bryan Curatorial Chair, as well as awards from The Andy Warhol Foundation for the Visual Arts, William Penn Foundation, Pew Center for Arts and Heritage and the National Endowment for the Arts. She has established fiscal and personnel stability for the organization, expanded the size of the staff, developed a publication program, improved the facility and re-established The Print Center's position as an artist's advocate. She often serves as a panelist, guest juror and visiting critic for regional and national organizations, government agencies and universities. Her curatorial efforts have included Black Pulse: Doug + Mike Starn, 2007; Nakazora: space between sky and earth: Masao Yamamoto, 2008; Silver Mine: Robert Asman, 2011-2012; Matt Neff: Second Sight, 2014; and Victoria Burge: Penumbra, September 2016. Recent publications include The Picture that Remains by Will Brown and Thomas Devaney, 2013, and To See God Not the Devil's Insides by Doug and Mike Starn, 2007.
Mikaela Hawk, Development & Communications Manager
mhawk [at] printcenter [dot] org
215.735.6090 x5
Mikaela Hawk was appointed The Print Center's Development & Communications Manager in February 2021, after serving as the Assistant to the Director for four years. She joined The Print Center's full-time staff in 2016, following a brief stint as part-time Administrative Assistant and a successful internship. Hawk received a BFA in Photography from the Savannah College of Art and Design, Savannah, GA in 2015, which included studies in Hong Kong and Provence, France. She has exhibited her photographic works in Lacoste, France; Philadelphia, PA and Savannah, GA and served as a volunteer at the Society of Photographic Education's 2015 national conference. In her free-time, she enjoys fiber-based crafts and running an Etsy shop.
Lindsay Sparagana, Artists-in-Schools Program Coordinator
aisp [at] printcenter [dot] org
215.735.6090 x3
Lindsay Sparagana took up the post of Artists-in-Schools Program Coordinator in September 2017. She earned a BFA in photography from the University of the Arts (UArts) and an M.Ed with Community Art Certificate from Tyler School of Art, Temple University. Sparagana has worked collaboratively in many diverse communities locally, and as far away as Costa Rica, Nicaragua and Mexico, to facilitate art making. She is currently a Senior Lecturer and Co-Director of NEUArts: both at UArts. Sparagana is also a community artist and photographer. Her personal work has been exhibited nationally and internationally.
Justin Keller, Administrative Assistant
adminasst [at] printcenter [dot] org

Bio coming soon!
Miosotis Negron, Administrative Assistant
adminasst [at] printcenter [dot] org

Bio coming soon!