Once again proudly co-presented by Philadelphia Photo Arts Center and The Print Center this two-day event showcases a wide range of exhibitors, from large and small photography and art book publishers to individual artists and institutions, local, national and international.
Friday, May 5: 12:00pm – 8:00pm
Saturday, May 6: 10:00am – 6:00pm
This year we're in a brand new beautiful location:
Twelve 27, 1227 N. 4th Street, Philadelphia, PA 19122
(North 4th Street, just north of Girard Avenue)
The event is open to the public and totally free!
The Print Center will be closed on Friday, May 5 + Saturday, May 6 for the Philadelphia Art Book Fair 2017. We hope you will join us there.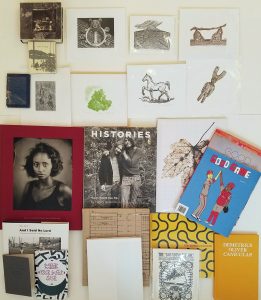 THE PRINT CENTER AT
THE PHILADELPHIA ART BOOK FAIR
Our table will feature amazing publications that you cannot find anywhere else!
Here is a sneak peek:
Publications on:
Edna Andrade
David Hartt
Henry Horenstein
Joel Katz
Isaac Tin Wei Lin
Demetrius Oliver
Keliy Anderson-Staley
Doug + Mike Starn
Richard Torchia
Publications from:
Cannonball Press
Good Game (Issue 1)
Good Game (Issue 2)
Printeresting
Harrison Walker
Prints by:
Rebecca Gilbert