January 18 — March 30, 2019
93rd ANNUAL International Competition Solo Exhibitions
Three artists were selected from the 10 Finalists of the 93rd ANNUAL to receive solo exhibitions.
Rafael Soldi: CARGAMONTÓN

Jason Urban & Leslie Mutchler: Long Lost Friend

and

In the Zemel Family Gallery
Chinn Wang: Soaking Up Local Color
PAST PUBLIC PROGRAMMING + EVENTS
Gallery Talk by the Artists + Opening Reception
Thursday, January 17; 5:30 Talk; 6:00 - 7:30pm Reception
Artist Lecture with Rafael Soldi
Wednesday, January 23, 6:00pm
Don't miss the opportunity to hear Soldi talk about his practice and career when he joins us from Seattle!
Presented in partnership with The University of the Arts Photography Program.
Chinn Wang in Conversation with Katie Garth: Women, Labor and the Arts
Wednesday, February 6, 6:00pm at The Print Center
Join us for a conversation between Chinn Wang and Katie Garth, MFA candidate in Printmaking at Tyler School of Art, Temple University. The pair, who met years ago when Garth was an undergraduate student in Wang's screenprinting class, will discuss the role mentorship in arts education has for women; perspectives on labor in contemporary studio practice; and notions of artistic identity.
Presented with the support of Tyler School of Arts Printmaking Program.
Conversation with Jason Urban & Leslie Mutchler
Artist Lecture: Wednesday, March 27, 6:00pm
The collaborative team of Jason Urban and Leslie Mutchler (JULM Studios) will talk about their research-intensive projects which examine the purpose and functionality of the printed form and the use of handcraft, libraries and archives, and symbols and spirituality.
PRESS
"Reviews, Rafael Soldi," ArtNexus, Review, Florencia San Martín, July-September #113, 2019  pdf
"Ruptured Histories: Chinn Wang at The Print Center," Art in Print, Megan N. Liberty, May/June 2019  pdf
"Chinn Wang Conceals and Reveals Her Family's Hidden History," Humble Arts Foundation, March 14, 2019  pdf
Critics' Picks, Rafael Soldi: CARGAMONTÓN, Artforum, February 9, 2019  pdf
"Brought to you in living color" | "A mother, in shadow" The Inquirer, February 3, 2019  pdf
"Snapshot jackpot: Three fascinating photo shows to catch in Philly this month" | "A mother, in shadow" Philly.com, February 4, 2019 pdf
"INTERVIEW, Reflecting on Childhood: Aggression and Intimacy at the Playground," LensCulture, January 17, 2019  pdf
Rafael Soldi, Imagined Futures (detail), 2018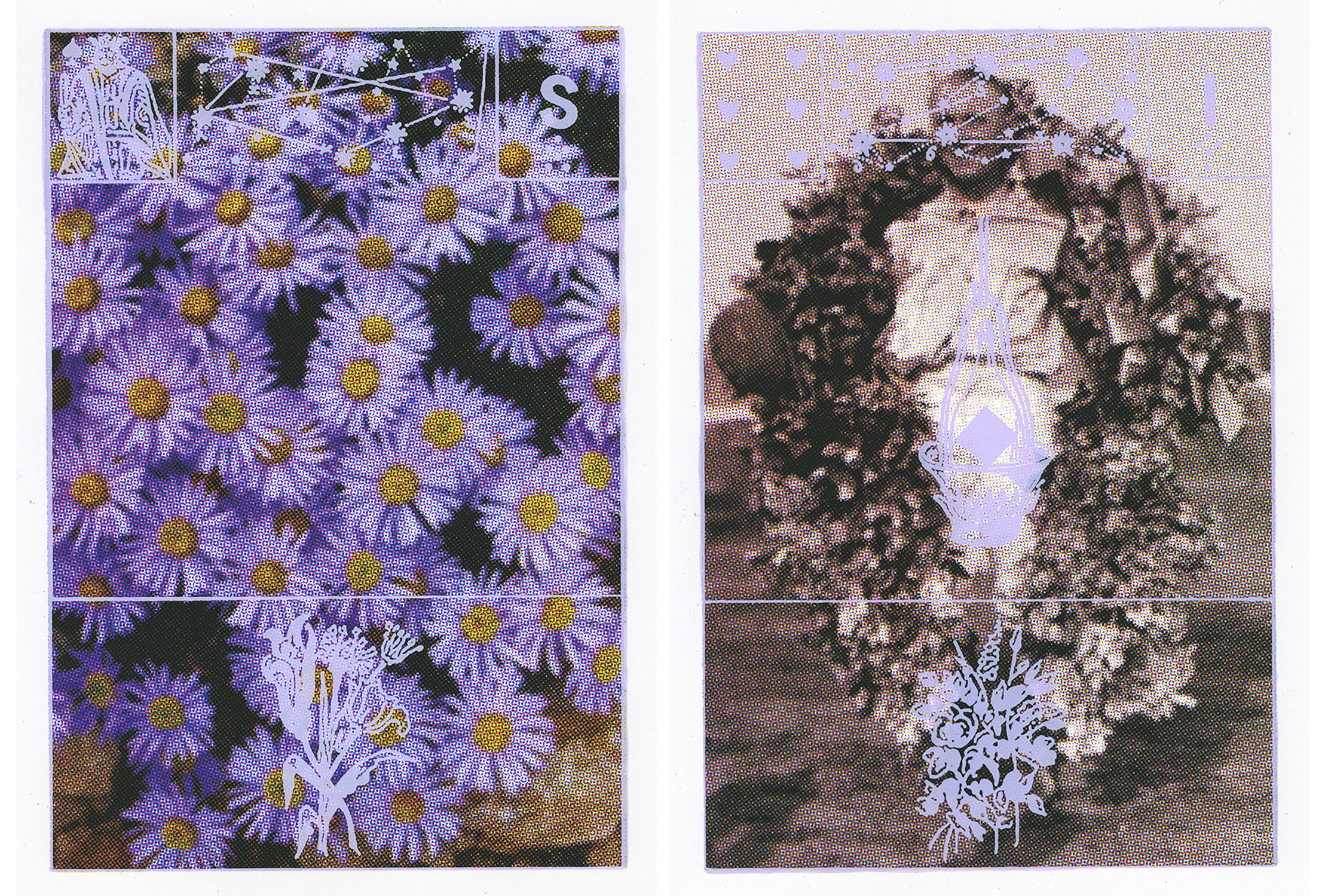 Chinn Wang, The Hermit & The Magician, 2018

Rafael Soldi (b. 1987, Lima, Peru) is a Seattle-based artist and curator. He holds a BFA from the Maryland Institute College of Art, Baltimore. His recent practice has focused on the visceral qualities that drive transcendental experience and his search to define his identity as a queer Latino man. He has exhibited at ClampArt, NY; Frye Art Museum, Greg Kucera Gallery and PCNW, all Seattle; American University Museum, Washington, DC; Griffin Museum of Photography, Winchester, MA; and Vértice Galería, Lima, among others. He has received a Magenta Foundation Award, a Puffin Foundation grant and residencies at the Vermont Studio Center, PICTURE BERLIN and Oxbow Space. His work is held in the permanent collections of the Maryland Institute College of Art; Frye Art Museum and King County Public Art Collection, both Seattle; and Tacoma Art Museum, WA. He has been published in PDN, Dwell, Metropolis and LUXE and reviewed in The Seattle Times, The Boston Globe, Pittsburgh Tribune and PDN.
To learn more about Rafael Soldi click here



Jason Urban and Leslie Mutchler are based in Brooklyn, NY. They create research-intensive projects that examine the purpose and functionality of the printed form. Trained as printmakers, Urban and Mutchler define print expansively and utilize an interdisciplinary approach. Together they have exhibited in galleries across the U.S. including Grizzly Grizzly, Philadelphia; Artist Image Resource, Pittsburgh, PA; and SPACE Gallery, Portland, ME. Internationally, they have exhibited at numerous venues including the Center for Fine Print Research, University of West England, Bristol; Wandesford Quay Gallery, Cork, Ireland; and Atelier Circulaire, Montreal, Canada. Awarded residencies include Edition/Basel, Switzerland; Frans Masereel Centrum, Belgium; and Cork Printmakers, Ireland.
Urban holds a BFA from Kutztown University, PA and an MA/MFA from the University of Iowa, Iowa City. He is the recipient of a Creative Capital Arts Writers Grant and a Curatorial Stipend from the Elizabeth Foundation for the Arts, NY. Urban co-founded Printeresting.org and regularly writes for the journal Art in Print.
Mutchler holds a BFA from Kent State University, OH and an MFA from Tyler School of Art, Temple University, Philadelphia. Mutchler is Chair of the Foundation Department, Pratt Institute, NY.
To learn more about Jason Urban click here & Leslie Mutchler click here


Chinn Wang (b. 1981, Columbus, OH) has a BA from the University of California, Berkeley and an MFA from the University of Wisconsin, Madison. She has exhibited nationally and internationally at venues including the Boulder Museum of Contemporary Art, CO; Urban Institute for Contemporary Arts, Grand Rapids, MI; John Michael Kohler Arts Center, Sheboygan, WI; Korean Cultural Center, Beijing, China; and Neurotitan, Berlin, Germany. She has been a resident artist at RedLine and Failure Lab at the Museum of Contemporary Art, both Denver and received a Santo Foundation Award. She is Teaching Associate Professor and Foundations Coordinator in the School of Art & Art History at the University of Denver and lives in Boulder, CO.
To learn more about Chinn Wang click here