Daniel W. Coburn: Becoming a Specter
Julie Anne Greenberg: Considerable Uncertainty Remains
Jacob Koestler: Copy of a Copy
May 18 — August 4, 2018
Opening Reception: Thursday, May 17, 6:00 – 7:30pm
Gallery Talk by the Artists: Thursday, May 17, 5:30pm
Three artists were selected from the 10 Finalists to receive solo exhibitions in spring/summer 2018 at The Print Center, Philadelphia.
It is striking that each of the three artists selected by the jurors this year are using print to document different notions of history. Their works are varied in form and process, but all share an acute interest in the impact of the passing of time.
 -  John Caperton, The Jensen Bryan Curator
Daniel W. Coburn: Becoming a Specter
A lot 
- TR Ericsson
With conceptual rigor and emotional directness, TR Ericsson uses 
Daniel W. Coburn was born in San Bernardino, CA. Coburn holds a BFA in Art from Washburn University, Topeka and an MFA in Photography from the University of New Mexico, Albuquerque. His photographs have been the subject of solo exhibitions at the Filter Photo Space, Chicago; La Fototeca Gallery, Guatemala City, Guatemala; Silver Eye Center for Photography, Pittsburgh; and Mulvane Art Museum, Topeka. His work is held in several public collections including the University of New Mexico Art Museum, Albuquerque; Museum of Contemporary Photography, Columbia College, Chicago; and Marianna Kistler Beach Museum of Art, Manhattan, KS. His first monograph, The Hereditary Estate, was published by Kehrer Verlag in 2015. Coburn is a recipient of a 2017 John Simon Guggenheim Memorial Fellowship. He currently serves as Assistant Professor of Photo Media at the University of Kansas, Lawrence.
Julie Anne Greenberg: Considerable Uncertainty Remains
My work considers a sense of transience
- Yoonmi Nam
Yoonmi Nam makes printed works based on the disposable objects that
Julie Anne Greenberg is originally from New Jersey and currently lives and works in Raleigh, NC. She holds a BFA in Sculpture from Tyler School of Art, Temple University, Philadelphia and an MFA in Printmaking from The Ohio State University, Columbus. She is currently an Assistant Professor of Art at Wake Technical Community College, Raleigh. Greenberg exhibits locally and nationally, and her work is included in both public and private collections. Her works have most recently been exhibited at The Mint Museum, Charlotte; SCOPE Miami Beach fair; University of Utah, Salt Lake City; and University of North Carolina, Wilmington.
Jacob Koestler: Copy of a Copy
The borders between the interior and exterior hold mystery and danger 
- Serena Perrone
Serena Perrone employs a wide variety of print processes to create works that 
Jacob Koestler is an artist and musician from Johnstown, PA. He holds a BS in Photography from The Art Institute of Pittsburgh and an MFA from the Photography and Integrated Media program at Ohio University, Athens. His practice includes photography, video and multimedia installations. Koestler also composes live scores for his videos under the name Rural Carrier and is a co-founder of My Idea of Fun, an art and music archive that features over 350 releases including a number of his albums and photography books. Koestler's artwork has been exhibited and published throughout the United States and internationally. He currently lives and works in Cleveland, Ohio, where he is a lecturer in the Photography + Video Department at The Cleveland Institute of Art.
SAVE THE DATE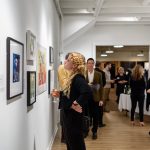 Saturday, December 1, 2018
The Print Center Benefit Auction