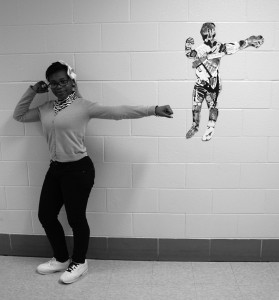 As early as the 1940s, student education has been an important part of The Print Center's activities. Since 2002, The Print Center's award-winning Artists-in-Schools Program (AISP) has provided complete and self-contained, year-long artist residencies and classroom instruction to Philadelphia public high schools and after-school programs free of charge. The program has served thousands of students Philadelphia's neighborhoods.
AISP's unique approach provides and implements high-level curricula based on exhibitions at The Print Center, which go beyond simple instruction in art making processes. Our flexible curriculum model incorporates input from artist-educators and classroom teachers to adapt to the specific learning goals of each class. Artist-educators lead the creation of individual and group projects fostering individual expression and cooperative skills. Classes explore the content and concepts behind the work the curriculum is based on and connect it to students' own experiences. Students are encouraged to express themselves creatively, and to expand the understanding of their own potentials.
Each year a portfolio of student projects is mounted online and exhibitions have AISP projects have been mounted throughout the city, including a 2014 exhibition at Philadelphia International Airport.