Gabriel Martinez: Bayside Revisited
A dramatic, immersive, multi-media exhibition incorporating several major new commissions, Gabriel Martinez: Bayside Revisited reflects on the history of Fire Island as it figures in the history of gay culture. The works in Bayside Revisited incorporate a variety of print and photographic processes including a site-specific film installation. In his ongoing exploration of the issues surrounding the legacy of gay activism,  Martinez uses the printed image as a way to celebrate, memorialize and illuminate history, which echoes The Print Center's approach to its Centennial.
Project support for Gabriel Martinez: Bayside Revisited is provided by the Edna W. Andrade Fund of the Philadelphia Foundation.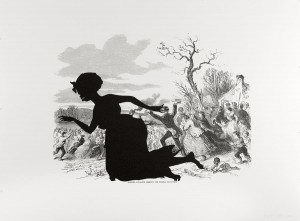 Recollection
Recollection brings together a wide range of works by artists who use printmaking and photography to explore and document history in deeply personal ways; many of the artists have been included in past shows at The Print Center. The exhibition features several newly commissioned works in print and video. Artists include Walker Evans, Henry Horenstein, Dina Kelberman, Rockwell Kent, Dennis McNett, Ken Lum, Martha Madigan, Oscar Muñoz, Judith Taylor, Ruth Thorne-Thomsen, Rochelle Toner, Kara Walker, Bill Walton,  Emma Wilcox and William Earle Williams.
The Print Center 100: Highlights in History 
This exhibition is the nexus of The Print Center 100. It highlights art, ephemera and objects tracing our evolution from a club for collectors and artists to an internationally recognized voice in print.
Gallery Talk: 5:30pm
Opening Reception: 6:00 – 8:00pm
All exhibitions will be on view September 18 – December 19, 2015.