Writer Lavelle Porter, artist Jonathan Lyndon Chase and Whitman at 200 curator Judith Tannenbaum join Ksenia Nouril in a panel discussion addressing race and sexuality in the work of Walt Whitman. Using examples from their respective practices, the panelists will reflect on the implications of Whitman's writings on issues of race and sexuality today.
Jonathan Lyndon Chase is an interdisciplinary artist principally working in modes of painting, video and sculpture to depict queer black love and community amid the backdrop of urban and domestic spaces. Recent solo exhibitions include those at Kohn Gallery, Los Angeles; Company Gallery, New York; and Pond Society, Shanghai, China. Chase has participated in group exhibitions at the California African American Museum, Los Angeles; Rubell Family Collection, Miami; The Bunker, Collection of Beth Rudin De-Woody, Palm Beach; Pennsylvania Academy of the Fine Arts and Woodmere Art Museum, both Philadelphia; and Taubman Museum of Art, Roanoke. Chase's work is included in numerous private and public collections such as the High Museum of Art, Atlanta; Bronx Museum; Los Angeles County Museum of Art; ICA Miami and Rubell Family Collection, both Miami; Walker Art Center, Minneapolis, MN; Whitney Museum of American Art, New York; Pennsylvania Academy of the Fine Arts and Woodmere Museum of Art, both Philadelphia as well as Buxton Contemporary Art Museum, Melbourne, Australia and The Wedge Collection, Toronto, Canada. Born in Philadelphia, Chase continues to live and work in this city.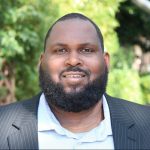 Lavelle Porter holds BA in history from Morehouse College, Atlanta and a PhD in English from The Graduate Center, City University of New York (CUNY). He is the author of The Blackademic Life: Academic Fiction, Higher Education, and the Black Intellectual (Northwestern University Press: Evanston, 2019). A native of Meridian, Mississippi, Porter is currently Assistant Professor of English at New York City College of Technology (City Tech), CUNY. His writing has appeared in publications, including The New Inquiry, Poetry Foundation, and JSTOR Daily, and he is a blogger for Black Perspectives. Porter serves on the Board of Directors of the CLAGS Center for LGBTQ Studies at The Graduate Center, CUNY. He also has worked as a licensed New York City walking tour guide and teaches courses on New York City literature and history.
Judith Tannenbaum is the Artistic Director of Whitman at 200: Art and Democracy, a region-wide initiative organized by the University of Pennsylvania Libraries' Kislak Center supported by The Pew Center for Arts & Heritage. Tannenbaum served as curator, associate director, and interim director at the Institute of Contemporary Art, University of Pennsylvania, Philadelphia between 1986 and 2000. In 1989-90, she defended public funding for the arts and artistic freedom in relation to the controversial Robert Mapplethorpe exhibition, The Perfect Moment, originated by ICA. Between 2000 and 2013, Tannenbaum was the Richard Brown Baker Curator of Contemporary Art at the Museum of Art, Rhode Island School of Design (RISD), Providence, RI where her exhibitions included What Nerve! Alternative Figures in American Art, 1960 to the Present (2014); Arlene Shechet: Meissen Recast (2014); Lynda Benglis (2010); and Island Nations: New Art from Cuba, the Dominican Republic, Puerto Rico, and the Diaspora (2004). Since returning to Philadelphia, Tannenbaum organized Person of the Crowd: The Contemporary Art of Flânerie (2017) at the Barnes Foundation and Framing Fraktur: Word & Image (2015) at the Free Library of Philadelphia. Tannenbaum holds an honorary Doctorate of Fine Arts from Moore College of Art & Design, Philadelphia.
Exhibition | Keith Carter: Seek & Find
All of The Print Center's Exhibitions and Programs are free and open to the public.